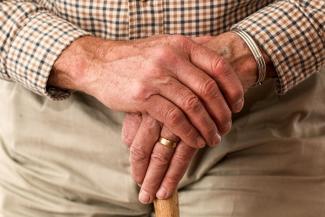 It's Never Too Late to Save
Retirement can sneak up on you.
At one time, it seemed like a lifetime away, now it may be just around the corner. You may have planned on working forever, but now you can admit that the thought of retiring has its benefits. Perhaps you've found yourself daydreaming about a little cabin on a lake, or a small home in the mountains. You may have even entertained the idea of becoming an expatriate and retiring overseas. While these daydreams can certainly be pleasant, you're also facing the reality that at the age of 50, you've done little to save for retirement.
Take heart. You're not alone. The Insured Retirement Institute has estimated that nearly 42 percent of baby boomers (those born between 1946 and 1964) have nothing saved for retirement. But there's no need to panic yet. There are many things you can do starting today that will help boost your retirement savings.  
Here are just a few:
1. Take inventory of your spending and see what can be eliminated or reduced. This can be anything from selling your current home and downsizing to a smaller home, townhouse, or condo. This can be particularly important if you're carrying a large mortgage on your current home, since you don't want to be paying down a large mortgage when you're in your 70s.  
2. If you live in an area where the cost of living is high, you may also consider moving to a less expensive area when you're close to retiring.
3. Post pone your retirement. There are many people in their 60s and even 70s who have never considered retirement. If you've been unable to save properly in your 20s and 30s, putting your retirement off by 5-10 years can give you additional time to bolster your retirement savings.
4. Take advantage of increased contribution levels. When you hit 50, you can boost your annual 401 (k) plan contribution by $6,000 a year ($23,500 + $6,000). You may be in your peek earning years, so be sure to take advantage of this opportunity. For those with a traditional or Roth IRA, you are entitled to increase contributions by $1,000 annually when you turn 50 ($5,500 +$1,000).
5. Get rid of credit card debt. Keep the credit cards, since closing an account can lower your credit score, but stop carrying a balance on the cards. You should use your credit card only if you plan on paying the outstanding balance in full each month.
6. Consider a job after your job. Many retirees look forward to the day they can stop working, only to find themselves at loose ends when they finally retire. To that end, many retirees are beginning a new career in retirement, expanding a hobby into a business, or simply getting paid to do something they love, rather than something to pay the bills. Don't underestimate the value of multiple income streams, so don't bypass that intriguing business venture just because you're close to retirement. It may be your next post-retirement career.
Even if you plan on working past retirement age, increasing your nest egg will increase the options and opportunities available to you when you do retire.
It's never too late, so start saving today!    
*This content is developed from sources believed to be providing accurate information. The information provided is not written or intended as tax or legal advice and may not be relied on for purposes of avoiding any Federal tax penalties. Individuals are encouraged to seek advice from their own tax or legal counsel. Individuals involved in the estate planning process should work with an estate planning team, including their own personal legal or tax counsel. Neither the information presented nor any opinion expressed constitutes a representation by us of a specific investment or the purchase or sale of any securities. Asset allocation and diversification do not ensure a profit or protect against loss in declining markets. This material was developed and produced by Advisor Websites to provide information on a topic that may be of interest. Copyright 2023 Advisor Websites.